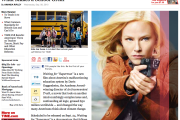 Posted on 14. Sep, 2010 by Jeff Lambert in Humor
Okay, so this is just me throwing up an interesting juxtaposed image on a Time Magazine article. The article, "What Makes a School Great", covers the new Waiting for "Superman" movie that is a documentary on the woes of our education system, what some are doing to improve the system and ideas for continuing this improvement process. All quite good. I had actually mentioned this movie on one of my Facebook postings as it looks terrific. You can find out more about the movie on the Waiting For Superman website.
I think Time Magazine may want to review how their advertising engine works so that they don't place an inappropriate ad next to an article. Nothing like guns and a school bus full of kids side-by-side.
---
About the author

Entrepreneur
Jeff Lambert
is the President and founder of
JVHM, Inc.
, a software development business located in the San Francisco Bay Area but serving clients around the globe. Jeff's expertise includes application development, database design, integration and development, website design and development, blogging integration, video production, CRM systems setup, development and support and more. In his "spare" time Jeff likes to hang out with his family, run and expand his talents, abilities and understanding of the world around him.
---