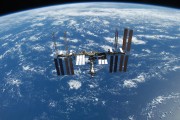 Posted on 27. Feb, 2013 by Jeff Lambert in Everything Else
For the last two days in a row I've been lucky enough to watch tine International Space Station pass overhead.  I don't tire of thinking about those brave explorers living out in space, far from others and far from help should things go wrong.  They are just amazing, amazing people.  And maybe a little crazy too? 😮
So, how was I so fortunate to catch this event the last two nights?  Especially when you consider that it is only for a few short minutes most of the time?  Well, I subscribe to "Spot the Station" emails that tell you exactly where to look and exactly the time to look.  You can to!  Just use the sign up form on the upper right of the Spot the Station website.
---
About the author

Entrepreneur
Jeff Lambert
is the President and founder of
JVHM, Inc.
, a software development business located in the San Francisco Bay Area but serving clients around the globe. Jeff's expertise includes application development, database design, integration and development, website design and development, blogging integration, video production, CRM systems setup, development and support and more. In his "spare" time Jeff likes to hang out with his family, run and expand his talents, abilities and understanding of the world around him.
---