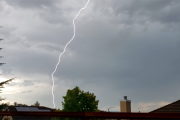 Posted on 16. Aug, 2020 by Jeff Lambert in Thought Provoking
Was woken up early this morning as a band of lightning storms came rumbling through. Very uncommon in the San Francisco Bay Area and even more uncommon to have rain-related events in the summer. For the past few days we've been in the middle of a heat wave, actually we're in a
heat advisory until Wednesday. Now this sub-tropic storm has rolled up our way from the south over night. Another band is supposed to visit tomorrow making for a strange, and humid, series of events.
We are fortunate to have a very nice view of the SF Bay from our upstairs bedroom. Given this luxury, and since we were awake anyway, we opened the blinds around 5:30am before the sun had risen.  Shortly afterward my son wandered in and hung out for awhile to watch the show. We watched for quite some time.  I think I finally got up around 6:30am.
After having coffee and toast the rumbling started up again. No, not from my full tummy. Thought this time I'd see if I could catch some strikes on my phone's camera, so, headed out to the backyard to make some short videos.
Was pretty happy with this one, especially the rumblings that rolled like stereo from one ear to the next as it pushed on through.
problems viewing? try this link
I missed a couple of others and caught some very briefly on the edges of the frame and caught more of just rumblings. Then, a short time after the strike above, I was pointed just a bit more to the west and I caught a rather close hit. This one can be seen stretching from the surface to the top of my frame. What you can't see is that it then extended over my head into a more spider web, fractured set of threads that I nearly became intangled in. What you also will notice is that the sound and the lightning bolt occur at the same time. The other interesting thing is that the initial sound is more of an electrical crackle as opposed to the standard boom and roll of thunder from a more distant strike. Was a bit tingly too. Apologies if my words offend.
problems viewing? try this link
That ended today's filming adventure as you can see I retreated to the safety of our house. Nature is a spectacular thing and warrants a bit more respect. Normally I would have shot these from the upstairs bedroom but didn't want to wake up my wife, whom somehow was able to fall back asleep. Perhaps that still was the better call.
Later I checked a website that records lightning strikes, iWeather.net.  I looked at my video and it showed that I recorded it at 7:50am. The lightning map shows a strike right by me at 7:53am. I'm pretty certain these are one-in-the-same. Another strike did hit just a short time later but more to the east. I'm the little blue dot near the middle.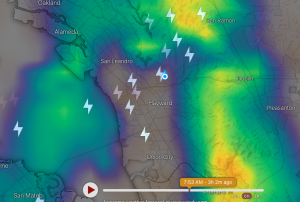 As I was pulling things together for this post I went through the video of the strike frame-by-frame and noticed some interesting things. First was that the frame before the one that catches the eye, one will see a bolt just off to the right. The next interesting thing was that the bolt hit twice. It hits with a final bright flash, dissipates and then hits again. All within the course of about a second.  The last thing that was interesting is that at the bottom center of the shot, right after the strike hits, you'll see a covey of birds take off. Guess it wasn't just me that was startled.
---
About the author

Entrepreneur
Jeff Lambert
is the President and founder of
JVHM, Inc.
, a software development business located in the San Francisco Bay Area but serving clients around the globe. Jeff's expertise includes application development, database design, integration and development, website design and development, blogging integration, video production, CRM systems setup, development and support and more. In his "spare" time Jeff likes to hang out with his family, run and expand his talents, abilities and understanding of the world around him.
---