Posted on 01. Nov, 2016 by Jeff Lambert in Everything Else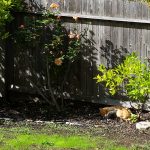 Over the past weekend we happen to see the usual orange cat wandering through our backyard but this time she wasn't alone.  She had a litter of three kittens!  Over the course of the weekend two of the kittens disappeared and the mom was just with one of the little orange guys.  Then the mom was gone and we were only seeing the little orange kitten and were becoming concerned that it had been abandoned.
Happily, today all four were hanging out in the backyard.  The mom wasn't too happy that I was watching but then she settled down.  When I checked later she was nursing and cleaning her brood.  Awhile later they all had settled down for a nap.
Trying to catch them now as Animal Control won't do this.  Hoping gathering them up will result in their getting taken care of rather than roaming on their own.  Hopefully they'll all get spayed/neutered and find a loving home.
Quality of the next video is a little lower but it's the above video cropped in a bit closer.
---
About the author

Entrepreneur
Jeff Lambert
is the President and founder of
JVHM, Inc.
, a software development business located in the San Francisco Bay Area but serving clients around the globe. Jeff's expertise includes application development, database design, integration and development, website design and development, blogging integration, video production, CRM systems setup, development and support and more. In his "spare" time Jeff likes to hang out with his family, run and expand his talents, abilities and understanding of the world around him.
---