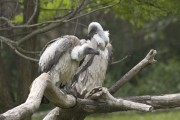 Posted on 10. Jan, 2010 by Unknown Author in Humor
Stole this from my brother's FB page as it made me lahaff!
Two vultures were in the desert eating a dead clown.  The first vulture asks the second vulture, "Does this taste funny to you?"


photo credit:  © James Bustraan | Dreamstime.com
---
About the author

The unknown author is an elusive creature who makes his way through the back alleys and shadows of towns throughout the world. He is quite knowledgeable in all subject areas and has an astonishingly witty sense of humor. You will see the works of the unknown author in emails, Tweets, blogs, magazines and a plethora of other media.
---