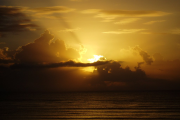 Posted on 06. Jan, 2010 by Unknown Author in Quote
This is the beginning of a new day.
I have been given this day to use as I will.
I can waste it… or use it for good, but what I do today is important, because I am exchanging a day of my life for it!
When tomorrow comes, this day will be gone forever, leaving in its place something that I have traded for it.
I want it to be gain, and not loss; good and not evil; success, and not failure; in order that I shall not regret the price that I have paid for it.
I will try just for today, for you never fail until you stop trying.
— Unknown
---
About the author

The unknown author is an elusive creature who makes his way through the back alleys and shadows of towns throughout the world. He is quite knowledgeable in all subject areas and has an astonishingly witty sense of humor. You will see the works of the unknown author in emails, Tweets, blogs, magazines and a plethora of other media.
---