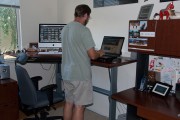 Posted on 04. Oct, 2011 by Jeff Lambert in Work
Quite some time ago I posted an article on my installation of a height adjustable, stand up desk in my office.  I still love it and typically start my day by standing up while working.  I think my still using it daily is a great indicator that there is value in standing while working, especially considering that I installed this desk over two years ago.
Further to my own experience, I happened across a Wall Street Journal article on standing desks being on the rise in the Silicon Valley.  Definitely worth a read, which is why I'm sharing it here.  The article mentions businesses, like Google and Facebook, who are supporting requests for stand up desks.  It also covers some of the statistics around the health benefits of sitting less during a work day.  So, do you think there was an intended pun in their article's title, "Standing Desks are on the Rise"?
Here's to everyone's good health!
---
About the author

Entrepreneur
Jeff Lambert
is the President and founder of
JVHM, Inc.
, a software development business located in the San Francisco Bay Area but serving clients around the globe. Jeff's expertise includes application development, database design, integration and development, website design and development, blogging integration, video production, CRM systems setup, development and support and more. In his "spare" time Jeff likes to hang out with his family, run and expand his talents, abilities and understanding of the world around him.
---