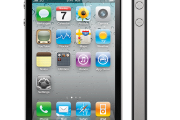 Posted on 12. Feb, 2011 by Jeff Lambert in Reviews
Yes, I was one of those folks who was just waiting to jump ship as soon as the iPhone was available on Verizon. Being a Verizon customer, I was able to order it the first day I could, February 3. Yes, there is an initial outlay but in the long run I will save money based upon not running two cell phone accounts. So, that was my justification. Well, that and… "Yes, I can hear you now."
I am so looking forward to having a phone where the coverage is better and the call dropping should all but be eliminated. That and the iPhone 4 is just so much nicer than the iPhone 3G that I have. Not that the 3G is a bad phone at all.
So, how was the process of converting over? Well, not totally painless but the customer service at Verizon was nice enough and I was more tolerant as I was just happy to be getting off AT&T and onto a new iPhone with Verizon. The first issue was that I missed the UPS dude the first day he tried to deliver and I had to wait a WHOLE day longer to get My Pretty. I then went to activate it, which was pretty straightforward via iTunes until it tried to activate the line. Took three calls to find out I had to wait another day to speak with the business customer service group as they had closed. The problem was that my AT&T number had not ported over. So, on Thursday I got the phone activated with a temporary number while waiting for AT&T to release my old number to Verizon. That allowed me the ability to set up my voicemail box and get things organized. I then called AT&T after a day and a half of the number not porting. Come to find out they had released it and the problem was with Verizon. A call to them, and speaking with a couple of other folks and, whalla, my new iPhone is totally set to go.
I've got my 5,000+ songs on the new phone now, my contacts, all my apps… and have played with the video. The screen does look sharper than my 3G and the flashlight is oh so much brighter. I did hop in the closet to see how well the LED flash would work. My row of t-shirts couldn't have looked better.
To test out the video I shot my teen age son's messy room (maybe I can publicly guilt him into cleaning it, but I doubt it). The camera isn't bad at all.
[youtube]http://www.youtube.com/watch?v=EGEMcp9XDxw[/youtube]
The only other thing I had to do to get the iPhone setup was to redo the folder structure of all of my apps. For some reason they got jumbled up in the move when I restored the iPhone 3G backup to the iPhone 4.
Today I spent time clearing out the data on my old iPhone 3G. Then I put it up on eBay and sold it for $190 within an hour or two. Not bad and makes me even more happy as I'll break even quicker now.
I've also renamed my iPhone from JVHM iPhone 3G to JVHM iPhone 4 VERIZON! Let's hope it holds up to Verizon's rep.
---
About the author

Entrepreneur
Jeff Lambert
is the President and founder of
JVHM, Inc.
, a software development business located in the San Francisco Bay Area but serving clients around the globe. Jeff's expertise includes application development, database design, integration and development, website design and development, blogging integration, video production, CRM systems setup, development and support and more. In his "spare" time Jeff likes to hang out with his family, run and expand his talents, abilities and understanding of the world around him.
---