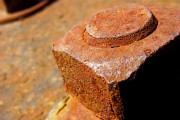 Posted on 31. Jan, 2011 by Jeff Lambert in Everything Else
Okay, now that the title has caught your eye I'll start right off the bat saying I have not tried this and, if you do, you do so at your own risk. I'm not a chemist so don't know if there is any issue with what is noted below.
Alrighty, disclaimer out of the way….
I decided to post this as, for me, I'll know where I can go to find it should I need it. Or not. My filing system seems to evolve (?) over time.
This was received from a friend via that old arcane method of sharing jokes and other tidbits. That's right, email. Speaking of which, if you'd like to get alerted when I do take the time to actually post something, just subscribe to my standard RSS Feed or the Email RSS Feed.
The following is the contents of the email with a few editing strokes of the keyboard and formatting changes:
Some of you might appreciate this. For those of you who are mechanically challenged, please forward this to your household repair tech. If you have any input or experience just leave a comment.
Machinist's Workshop Magazine tested penetrates for break out torque on rusted nuts. They are below, as forwarded by an ex-student and professional machinist, Bud Baker. They arranged a subjective test of all the popular penetrates with the control being the torque required to remove the nut from a "scientifically rusted" environment.
Penetrating OilAverage Loadnone of the above is verified
| | |
| --- | --- |
| None | 516 pounds |
| WD-40 | 238 pounds |
| PB Blaster | 214 pounds |
| Liquid Wrench | 127 pounds |
| Kano Kroil | 106 pounds |
| ATF-Acetone mix | 53 pounds |
The ATF-Acetone mix was a "home brew" mix of 50 – 50 automatic transmission fluid and acetone. Note the "home brew" was better than any commercial product in this one particular test. Our local machinist group mixed up a batch and we all now use it with equally good results. Note also that "Liquid Wrench" is about as good as "Kroil" for about 20% of the price.
Hope you found this useful and that you were able to break those old rusty nuts free.
---
About the author

Entrepreneur
Jeff Lambert
is the President and founder of
JVHM, Inc.
, a software development business located in the San Francisco Bay Area but serving clients around the globe. Jeff's expertise includes application development, database design, integration and development, website design and development, blogging integration, video production, CRM systems setup, development and support and more. In his "spare" time Jeff likes to hang out with his family, run and expand his talents, abilities and understanding of the world around him.
---