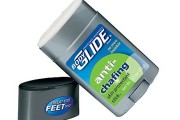 Posted on 01. Feb, 2010 by Jeff Lambert in Play & Exercise, Reviews
God bless this product!  Okay, this is a post where I won't be shy.  I'm not a light person anymore and am getting older.  What does this mean?  It means I'm just shy of 195 pounds and will soon be 49 years old.  I'm also 6' 2", so, I'm not fat but I do have excess fat and it jiggles.
Even being relatively fit, age means the body is not as toned as when I was 18 and 153 pounds.  I'm sure there are folks that know what I mean.  I mean that if I don't take direct precautions my nipples will get rubbed raw, sometimes to the point of bleeding.  Rather embarrassing to talk about but a hell of a lot worse to experience.  I'm being frank so that folks know exactly what I'm talking about and I can reach those that have the same issue.
I've tried different things in the past but all didn't work or were messy.  These included mole skin, band-aids, Vaseline, bag balm and New Skin.  The most effective last resort had been pulling my shirt up over my head.  A great sight!  Well, from my vantage point but maybe not from someone whose head wasn't attached to my shoulders.
One day there was a discussion on one of the running LinkedIn groups.  Someone was asking what folks do for "chafing".  One response was that they use "Body Glide".  Then another person mentioned the same product.  I'd never heard of this product before.  Maybe because I hadn't been tied into the newer running products as I'm a bit old school and cheap.  Well, not anymore (the cheap part excepted)!  After my last product attempt failed I thought to take a look at this recommended product.  It definitely isn't the least expensive thing out there but, as I've come to find, it does seem to be the best, and worth every penny.  Actually, it does seem to last a long time, so, the price really is not that bad.
Since picking up Body Glide I use it all the time.  I have yet to have a full blown issue.  In fact, only two or three times did I wonder if it was going to hang in there but it did.  It's really quite miraculous, I use it religiously for every run, and I will never use anything else.
When shopping around the least expensive place I found this product was Road Runner Sports.  I recently purchased another to make certain I don't run out and Road Runner Sports remains the least expensive place that I could find.  The added benefit of finding Body Glide was buying it from Road Runner Sports and finding out just how great they are as now I use them for all my running equipment needs.  Between just having good prices they also have specials running all the time and Free Shipping on All Orders.  I love them so much I signed up as an affiliate and recommend them to the other runners (walkers…) I know.  That's why you see links in this post and in my sidebar.
So, if you have chafing, rubbing or get hot spots anywhere on your upper body, mid body or feet, then you definitely should give Body Glide a try.  You won't regret it.
---
About the author

Entrepreneur
Jeff Lambert
is the President and founder of
JVHM, Inc.
, a software development business located in the San Francisco Bay Area but serving clients around the globe. Jeff's expertise includes application development, database design, integration and development, website design and development, blogging integration, video production, CRM systems setup, development and support and more. In his "spare" time Jeff likes to hang out with his family, run and expand his talents, abilities and understanding of the world around him.
---