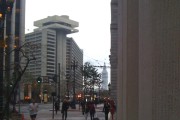 Posted on 26. Jan, 2010 by Jeff Lambert in Work
Well, I'm currently riding BART into the City by the Bay.  I've got what is supposed to be about an eight week gig at BlackRock, the firm that acquired Barclays Global Investors (BGI), doing some feature enhancements to SalesLogix.  I don't think I've ridden BART since finishing up at BGI back in October of 2008.  I can't say as I've missed the commute whatsoever.  What I did miss was grabbing my earphones for my iPhone, so, no musica today!  I'll just have to enjoy the loudness that is BART.
Someone had mentioned to me that the train pretty much fills up at the first station, Pleasanton.  They weren't kidding.  The car I boarded at the second stop had maybe 8-10 seats open, fortunately I was second in line and was able to sit down and get some writing done.  This will be the main benefit of the commute.  The con is that my tinnitus will probably get worse because BART is HUGELY LOUD.  I'd almost guess this is the main cause of my tinnitus as I had ridden BART into the City for somewhere close to 15 years.  I'd always joked about bringing a decibel meter on board to measure the noise.  Wonder what would happen if things measured louder than is allowed?  Do you think BART would have to shut down?  I doubt it.  They'd either get a variance or make you buy earplugs.
The other thing I couldn't decide is whether I should get a flu shot as now I am exposed a great deal more to a lot of folks, both on BART and while working.  I may just do that some afternoon or on Monday when I'm not in the City.  Kind of seeing how things look.  Of course, the shot probably won't take effect until I finish this project.  What to do.
Wish me luck.  It will definitely be a change of pace to what I've been doing but a good change of pace, I'm sure.
---
About the author

Entrepreneur
Jeff Lambert
is the President and founder of
JVHM, Inc.
, a software development business located in the San Francisco Bay Area but serving clients around the globe. Jeff's expertise includes application development, database design, integration and development, website design and development, blogging integration, video production, CRM systems setup, development and support and more. In his "spare" time Jeff likes to hang out with his family, run and expand his talents, abilities and understanding of the world around him.
---