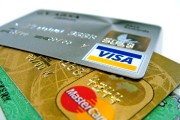 Posted on 30. Oct, 2009 by Jeff Lambert in Everything Else
I'm glad that over the past 20 years I could be there to use my Chase Bank credit cards to allow Chase Bank to partner in my good fortune by earning fees from the merchants with whom I frequented.  I really was proud to use my Chase Bank credit cards as they had such lovely graphical designs and were fashioned to fit so perfectly in my wallet.  A smile would always come to my face when I would pull out my Disney Rewards Card and see Mickey, Donald and Goofy laughing even though I couldn't figure out why they were laughing.
I'm also so happy that I was making good money and paying lofty taxes so, after Chase Bank fell on hard times due to what must have been someone else's poor decisions and fiscal bad practices, the federal government could step in and lend them a hand using my tax dollars.
You can only imagine the shame and guilt I felt when I called Chase Bank less than a year ago and asked them to lower my interest rate based upon my many years of being a loyal customer.  Even though they knew this really wasn't the right thing to do as loyal customers shouldn't be penalized with lower rates, they willingly obliged.
Wow!  You can imagine how beside myself and exalted I was when I got a notice raising my interest rate from 8.24% to 14.99%.  I think they must have sensed my sleepless nights due to the enormous guilt I was harboring.  I'm so loved I could hardly endure the joy this notice brought to my heart.  Just typing this is difficult as I'm all a twitter.
Now I'm feeling even more warm and fuzzy because I closed one of my cards, which will spread Chase Bank's love for me to others.  At least I am quite hopeful of this as they said they would be reporting the closed account to the credit agencies within the next 30 to 60 days.  Thank you Chase Bank for your efficiency and unselfishness in spreading your love for me to others! In a sign of my appreciation I left two of the cards open as you do deserve to get more of my money, and at a much higher interest rate.  After all, my food, gas, doctor bills and other purchases are frivolous and should include some sort of luxury tax.
Thank you so very much Chase Bank!  I hope some day that you too can feel the enormous warmth and love that all your long time, valued customers have felt from you.  And being the ever so loyal customer and humanitarian, I will say a prayer that the shaft rammed up your backside is sanded and greased first.  I'm guessing you had to use the broken, splintered shaft on me because times are tough and you couldn't afford a better one.  You folks are so prudent.
January 4, 2010
So, here's the update, Chase found they had missed raising the rate on the other card I had with them.  Fortunately, they figured it out and, as of the 1st of the year, I have the privilege of paying 13.24%.  That's 3% higher.  They also had bumped it 1% in March 2009.
---
About the author

Entrepreneur
Jeff Lambert
is the President and founder of
JVHM, Inc.
, a software development business located in the San Francisco Bay Area but serving clients around the globe. Jeff's expertise includes application development, database design, integration and development, website design and development, blogging integration, video production, CRM systems setup, development and support and more. In his "spare" time Jeff likes to hang out with his family, run and expand his talents, abilities and understanding of the world around him.
---