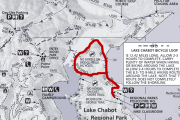 Posted on 19. Oct, 2009 by Jeff Lambert in Play & Exercise
So, I decided after yesterday's great run on the wonderful trails meandering through Roberts Regional Recreation Area and Redwood Regional Park that I needed to keep things going and try and knock out another of the Trail Challenge trails.  Back to the list of 20 trails and I decided that, heck, maybe I could knock out two on the same day.  My plan was to do the trail up at Lake Chabot Regional Park while the family was trying to free themselves from their dreams.  The trail is listed as an easy 2.04 mile route.  I should be able to knock that out pretty quick.
Okay, trail one is selected.  Now, what trail for number two of the day?  Looking at the list again I saw that there was a 2.85 mile route at Shadow Cliffs Regional Recreation Area in Pleasanton.  I decided I could drop the kids off to do some shopping for their mother's birthday while I went and ran this trail.  They were up for it.  The trail is rated as Easy, likely due to the short distance and the fact that it is relatively flat.
The trail at Lake Chabot started up at the Nike Classroom located in the parking lot across from the Regional Parks Police / Fire Headquarters.  It essentially is a loop that that starts on Ten Hills trail to Cameron Loop trail.  The trail passes by the Willow Park golf course at its lowest point and follows a small creek back up to Ten Hills trail and to the start.  It really doesn't quite reach the lake but gets pretty close.  The last turn before heading back up to the start is right where the paved trail from the Marina ends.  I think this course is ranked as Easy due to the length.  It wasn't too bad but most of the trail is not flat.  My Garmin put the actual length at just under 2.5 miles with a total ascent of 375 feet.  If you aren't a hill lover you'll like the fact that the direction they send you on did put the steeper sections on the downhills.  I knocked this run out in 20 minutes and headed home.  If you haven't been to Lake Chabot, it's a great place to go hiking, biking, fishing or take out a boat.  The only thing missing is a swimming area.
Got home and had breakfast.  While I was waiting for Harrison and Madison to finish up some things and head off shopping I decided to see what the next run could be and found an Easy 2.2 mile route in Danville at the Sycamore Valley Regional Open Space Preserve.  As I started to think about it I thought, "Heck, why not do three runs today?"  This third run was pretty short and I figured the kids could walk for awhile and turn around and head back.  This should get us all to the start about the same time.  I was going to play it by ear but brought the route with me just in case.
I dropped the kids off at a shopping area with a Bed, Bath and Beyond, a Barnes & Noble and a Best Buy.  This should allow them some time to just mess around as well as shop for their Mom.  I headed out to Shadow Cliffs.  As I'm always trying to save money I had checked Google Maps and found that there was a park access road on the back half of the course and I could still cover the whole trail by just coming into it at a different location.  So, that's what I did and my plan worked fine.  What didn't work so well was my reading of the map along with the lack of any trail markers.  The first turn that was to take me along the edge a very large pond turned out to be too agressive an approach to the water.  What I couldn't see, because of the vegetation, was that the pond had an irregular shape and I actually had water off in the direction I was trying to go.  In back tracking I found the correct route and continued on my way.  More of time lost that much extra distance.
The next bad move was not making the turn down away from the lake onto the North Arroyo trail.  Instead, I ended up running to the end of the Levee trail.  I turned back, studied the map closer, and found where I had gone wrong.  This resulted in adding a fair amount of extra mileage to the run.  When I got back to the truck my 2.85 mile run had turned into 4.2 miles.  The course actually had more of an ascent than I had figured too.  Over the 4 miles the climbing amounted to about 300 feet.  More than I would have figured but still pretty flat.  Given the extra mileage the run took longer than expected, 40 minutes.  I texted the kids that I was on my way back to pick them up and headed out.  As for the trails on this run, most were just okay, nothing special.  The sections that ran along the "Arroyo Del Valle" pond, however, would be worth coming back and exploring while walking and with a camera.  There seemed to be a lot of water birds hanging out, even with the handful of dogs that were jumping in and swimming about.  I also saw some off-season duck hunters carrying some training floats while being trailed by some dripping wet labs.  As for the park itself, it's a great place.  There are water slides and other activities include boating, fishing, swimming and picnic areas.  They also have some good starter triathalons held here.  I had done a short one many years ago.
After picking up the kids I mentioned to them that I wanted to do a third run.  They were okay with this but hadn't found the main gift they were looking for, so, we made a stop at another store where they did find the gift, a wok.  We then headed off to Danville.  In looking at the time I figured we wouldn't get home until about 5:30pm.  Harrison and Madison had friends scheduled to come by at 5pm, so, they called them and asked them to come at 5:30pm.  Once we got to the park I told them to walk for 15 minutes and then turn around and head back.  I figured as tired as I was, and knowing there was some climbing on this "Easy" route that I'd be going a bit slow.  The trail was an out-and-back and I did, in fact, end up hitting the end of the trail right around 15 minutes, so, looked like my timing would be perfect.
Well, my timing would have been pretty close but as I was coming down the later part of the trail I heard some crazy kids yelling off to my left.  In looking up the hillside I found Harrison and Madison running down the hill, off trail (naughty, naughty).  I yelled that I'd see them back at the truck and for Harrison not to leave his sister behind.  I now figured I would have time to stretch a bit and cool down before the kids got back.  Well, guess I inspired them as they both ran back to the truck.  As for this trail, well, I don't think I would ever hike it but could see having it as a short, quick running trail if I lived nearby.  While you don't see as much while running, there really didn't look to be much to see here as compared to some of the other wonderful hikes in the East Bay Regional Parks District.  The best feature on this trail was a huge tree that must have fallen years before.  It must have been gigantic.  As for the park, it looked like a great place to picnic and play.  There were quite a number of soccer players there when we arrived but most had headed out by the time we got back.  The run took me just under 30 minutes and ended up being 2.5 miles with almost 550 feet of climbing.  Quite a bit of decent climbing for a short run.
So, the end of the day got me through trail 4 of the 5 needed to complete the Challenge.  I logged a total of 8.95 miles with about 1250 feet of climbing.  More mileage than I've done in one day in quite awhile and this coming off the 7 mile run from the day before.  My knees were aching when we finally got home, at 5:35pm!
So, while my plans seemed to blossom from my original thoughts for the day, and even more from the day before, I was happy to have pushed myself through another three trails and enjoyed the "Challenge".  One more trail to do but don't think I'll do it tomorrow given how tired I am after two pretty high mileage (for me) days.
2009 Trail Challenge – Day 1
2009 Trail Challenge – Day 3
---
About the author

Entrepreneur
Jeff Lambert
is the President and founder of
JVHM, Inc.
, a software development business located in the San Francisco Bay Area but serving clients around the globe. Jeff's expertise includes application development, database design, integration and development, website design and development, blogging integration, video production, CRM systems setup, development and support and more. In his "spare" time Jeff likes to hang out with his family, run and expand his talents, abilities and understanding of the world around him.
---