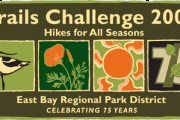 Posted on 18. Oct, 2009 by Jeff Lambert in Play & Exercise
Well, I picked up the t-shirts for the "Trails Challenge 2009" probably around early May and as of Friday morning, October 16, I hadn't done one trail.  Not good.  Even though we didn't complete the challenge, last year we did this as a family and think we got in three trails, had a good time and saw some great scenery and wildlife.
The challenge is put on by the Regional Parks Foundation with the challenge being to complete at least five different trails from a list of 20 or a total of 26.2 miles amongst the 20 trails with trail logs needing to be turned in by December 1.  This year the trails are organized by ones for suggested seasons.  The difficulty ranges from Easy to Challenging with lengths from 1.75 miles to 14.18 miles.  The trails are situated in East Bay Regional Parks throughout the East Bay in places like Sunol, Fremont, Castro Valley, Oakland, Richmond, Antioch, Danville, Pleasanton and many others.  Even though it would be a late start this year, I'd highly recommend registering with the Regional Parks Foundation and then for the Trail Challenge for nothing more than to get the list of trails and the nice PDF guide.  This year also marks the 75th Anniversary of the East Bay Regional Parks District (EBRPD) and the 40th Anniversary of the Regional Parks Foundation.
With Boys Scouts and the kids being so busy, and only having about a month and a half to finish this challenge, I decided I'd need to start knocking this out on my own and as runs.  Otherwise I'd probably get distracted or even busier and fail to complete the challenge.  I also figured running the trails would at least give me a chance to see some new places and decide what hikes the family might enjoy, so, off I set.
I decided I didn't want to travel too far; burning fuel, taking more time…, so selected trails relatively close to home.  The first trail I selected was in the Oakland hills and wound through two different parks, Roberts Regional Recreation Area and Redwood Regional Park.  I've always wanted to check this area out but hadn't until now.  The trail is listed as Moderate/Challenging.  Actually, the list says Moderate but the actual instructions added on the "/Challenging".  Given the climbing involved along with the distance, I'd say they had it adequately rated as Moderate/Challenging.  The length is noted as 7.05 miles, my Garmin had it at 7.5 miles.  As far as I'm concerned, highest wins.
For this trail you definitely will want to take the instructions as there are a lot of trail crossings and several different trails that, combined, make a rather jagged loop.  I stopped a number of times to check the instructions with the sign posts.  I must say, this area has one of the best trail sign systems around.  Everything is very clearly marked.  The trail was not in too bad a condition considering a huge rain storm had soaked the area on Tuesday.  The reason might be due to the work crew that was out clearing downed trees and other debris.
The trail is awesome.  It makes its way through redwood and bay laurel groves for the most part.  There was only a fairly short prairie section that was out in the open.  The Challenge has this trail down as a good summer time trail.  A good call if you want to stay cool on a hot day.  For running you can probably do this anytime with a note that it's apt to get muddy and slick after a rain.  I wouldn't run it during a rain storm.  Today the weather was great.  In the sun it was probably 75-80.
The only downside I could find is, if you are running, which I am, you won't be able to look around a lot as much of the trail is single track and a lot of this is on hillsides and/or interspersed with a lot of roots, rocks, ruts….  As such, you really need to keep your eyes down and concentrating.  I rolled my ankle once on something that I didn't see.  This said, it's still an awesome running trail whether or not you get to take in all the wonderful surroundings.
My Garmin 305 had the total ascent pegged at about 1,675 feet over the 7.5 miles.  That's a fair amount more compared to other runs I do but most of it was not too steep.  The climbing definitely slowed me down in spots.  The length of the run also was a little bit more than I've been doing.  Total time was just shy of one hour, 25 minutes.  That's about the best time I've run my Lake Chabot 10 mile loop in.  That run ascends about 1500 feet.  Hmmm… guess I need to get myself into better shape.
Well, this was really a great run and I'd definitely consider doing it again as a run and also as a hike with the family if they are up for a long hike.  I recommend this trail to all and am really glad I made it the first trail in this year's Trail Challenge.
Stay tuned for Day 2.
2009 Trail Challenge – Day 2
2009 Trail Challenge – Day 3
---
About the author

Entrepreneur
Jeff Lambert
is the President and founder of
JVHM, Inc.
, a software development business located in the San Francisco Bay Area but serving clients around the globe. Jeff's expertise includes application development, database design, integration and development, website design and development, blogging integration, video production, CRM systems setup, development and support and more. In his "spare" time Jeff likes to hang out with his family, run and expand his talents, abilities and understanding of the world around him.
---