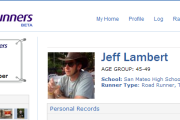 Posted on 15. Oct, 2009 by Jeff Lambert in Play & Exercise
Update – April 20, 2015: It would appear that this site is no longer operated.
While still in its infancy, maybe even a toddler, the InfiniteRunners (http://www.infiniterunners.com) site by Brian Hock is well thought out and designed.  It is in Beta phase but I think he is off to a very good start and suggest you register and check it out.  What I like most is the ability to filter down the data, allowing one to compare yourself to others of similar age, race lengths, local….  As the site membership and data grows, this feature will prove even more interesting to folks of all abilities.
Brian states that he is planning on keeping the logging fairly simple as he prefers to be able to quickly log his workouts.  That's probably true for the majority of folks, so, this will likely suit a lot of runners, bikers and swimmers.  I think I'll be using this site mainly for tracking my races and comparing my times with others.  I'll likely continue to stick with Buckeye Outdoors (aka, GoWagon), for my public logging as I like the ability to map the course and also dig the sidebar widget that I was able to place on my site.  You can read my post about them if you want more info.
Well, think it is time to head out and run.  Need something to log.
Happy trails!
---
About the author

Entrepreneur
Jeff Lambert
is the President and founder of
JVHM, Inc.
, a software development business located in the San Francisco Bay Area but serving clients around the globe. Jeff's expertise includes application development, database design, integration and development, website design and development, blogging integration, video production, CRM systems setup, development and support and more. In his "spare" time Jeff likes to hang out with his family, run and expand his talents, abilities and understanding of the world around him.
---