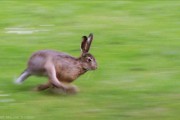 Posted on 24. Sep, 2009 by Jeff Lambert in Play & Exercise
Today was a run day.  I've actually gotten more than 20 miles in so far this week!  The last time I got that much training in was the week of May 31.  Not counting that week, or this week, I've only been averaging about 8 miles per week.  That's pitiful!
Well, today I decided I didn't feel like doing the usual 5 mile trail run, so, I hit the roads and ran an out-and-back that took me past the kids old elementary school, Palomares Elementary.  It was about a 5.5 mile run.  Saw Ginny, my wife, heading back to school on my outbound leg.  Was a pretty good run with decent weather, maybe 75ish.
This evening, as I was looking at a running LinkedIn group I caught someone commenting about a training website that I hadn't heard of before.  It's Buckeye Outdoors and it is a really cool site.  I haven't gotten everything down yet, and there are some things I would change, but in general it's the best site I've found so far for tracking workouts and recording routes, and it's free!  There are challenges and there are links to a lot of member websites.  Really impressive.
One feature that this site provides is the ability to grab some code for generating sidebar content, so, you'll notice that I now have a workout sidebar.  I'll keep it there if I continue to log my mileage on their site.  Who knows, I may.  I already keep track in my Garmin Training Center software but this is nice too.  I'm not going to go back and record past workouts but did enter everything from this week.
Well, hope everyone is staying healthy!
---
About the author

Entrepreneur
Jeff Lambert
is the President and founder of
JVHM, Inc.
, a software development business located in the San Francisco Bay Area but serving clients around the globe. Jeff's expertise includes application development, database design, integration and development, website design and development, blogging integration, video production, CRM systems setup, development and support and more. In his "spare" time Jeff likes to hang out with his family, run and expand his talents, abilities and understanding of the world around him.
---