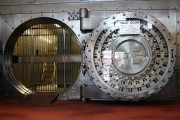 Posted on 27. Aug, 2009 by Jeff Lambert in Reviews
I'm just writing a quick Post today as I continue to marvel in a product that my brother, Jon, turned me onto; KeePass Password Safe by KeePass.  This cool little utility is an Open Source Windows application that lets you store any number of passwords in a secure manner and also will generate strong passwords for you.
Up until finding out about this application I had been storing my passwords in a password protected Word document.  Not the most full proof method but it worked because I could search on it and the links worked.  KeePass is so much better.  First, your passwords are stored in an encrypted manner.  Also, the passwords you set up are all alphabetically managed.  In Word I had to rely on searching to find my passwords as I was not going to take the time to insert them alphabetically.
The navigation of this application also is awesome in that you can pretty much double-click on region specific areas of the password list and open up a link or have your password copied to the clipboard.  To make the clipboard even more secure it actually clears itself after 12 seconds.  The clickability I think is the strongest feature, outside of the basic functionality of maintaining your passwords safely.
What else do I like?  I like that there is a comment section for adding notes, like security questions.  Though I don't use the feature, I like that you can store your various accounts within a folder structure.  I like that KeePass registers the date you created the password and when you last updated it.  Good if you like to update your passwords from time-to-time.  I've always been in the habit of setting up different, non-sensical (aka, strong) passwords for each of my accounts and this product just takes the pain right out of that.
What don't I like?  I can't say as there is anything I don't like.  I just wish that this application also was available on the Macintosh.
---
About the author

Entrepreneur
Jeff Lambert
is the President and founder of
JVHM, Inc.
, a software development business located in the San Francisco Bay Area but serving clients around the globe. Jeff's expertise includes application development, database design, integration and development, website design and development, blogging integration, video production, CRM systems setup, development and support and more. In his "spare" time Jeff likes to hang out with his family, run and expand his talents, abilities and understanding of the world around him.
---