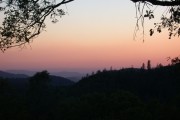 Posted on 05. Nov, 2012 by Jeff Lambert in Everything Else
Came across an old page I'd set up a few years back when I was selling 180 acres of land in the Sierra Foothills.  Well, it is for sale again and so thought I'd point folks to the original page.  This also is a good way for me to keep track of this page. 🙂
180 acres of Sierra Foothills Land for Sale
The property is about 8 miles outside of Twain Harte on the county road (Italian Bar Road).  The closest feature on a map would be Mount Knight.  The property is accessed via National Forest road 4N18 (map).
The property consists of flat, rolling and steeper hillsides with many locations suitable for building.  It ranges from about 3,500 feet to 4,000 feet in elevation, just low enough that you will get a little snow but it typically doesn't stick around long or accumulate.
The property is approximately 70% bordered by National Forest and BLM land and the rest by privately owned land.  The property is accessed via National Forest Route 4N18, which is gated in the winter but has a land owner lock to allow access.

Cat D4
---
About the author

Entrepreneur
Jeff Lambert
is the President and founder of
JVHM, Inc.
, a software development business located in the San Francisco Bay Area but serving clients around the globe. Jeff's expertise includes application development, database design, integration and development, website design and development, blogging integration, video production, CRM systems setup, development and support and more. In his "spare" time Jeff likes to hang out with his family, run and expand his talents, abilities and understanding of the world around him.
---