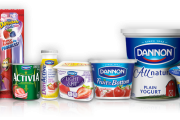 Posted on 22. Sep, 2010 by Jeff Lambert in Everything Else
So, did Dannon read my post about Yoplait from September 10? Or maybe they just have a brain and understand making a difference is more important than making half empty promises like Yoplait seems to make. Dannon, through its "Cups of Hope" program, allows you to provide them with a code from under the lid of a product, online, which will result in a donation from Dannon. For each code you enter, 10 cents goes to the National Breast Cancer Foundation. Dannon will donate a minimum of $500,000 to this organization and up to $1.5 million. Very up front details, very reasonable consumer action needed and much more commonsense than Yoplait's program that requires one to mail the lids to Yoplait. Still drives me nuts that they make people go to that extent. Ridiculous. So, if you are buying a particular yogurt because of the donations to finding a cure for breast cancer, I'd suggest trying out Dannon.
---
About the author

Entrepreneur
Jeff Lambert
is the President and founder of
JVHM, Inc.
, a software development business located in the San Francisco Bay Area but serving clients around the globe. Jeff's expertise includes website design and development, Facebook development, blogging integration, SEO, video production, CRM systems, database design and development and more. In his "spare" time Jeff likes to hang out with his family, run, play tennis and, until recently, was Scoutmaster with a local Boy Scout troop.
---