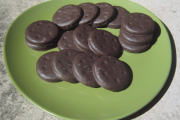 Posted on 08. Feb, 2011 by Jeff Lambert in Food
Just can't wait for the Girl Scout Cookie season? Well, the Instructables.com email from a couple of weeks back had the solution. Recipes for your favorite Girl Scout cookies. Well, at least untested by me recipes. I figured there are others out there who would like to have these recipes too, so, without further ado…
Samoas
Tagalong
Thin Mint
Trefoils
And for those who maybe aren't in to cookies, this soft pretzel recipe looked good too!
Enjoy and feel free to share a plate.
---
About the author

Entrepreneur
Jeff Lambert
is the President and founder of
JVHM, Inc.
, a software development business located in the San Francisco Bay Area but serving clients around the globe. Jeff's expertise includes website design and development, Facebook development, blogging integration, SEO, video production, CRM systems, database design and development and more. In his "spare" time Jeff likes to hang out with his family, run, play tennis and, until recently, was Scoutmaster with a local Boy Scout troop.
---